The global market for robotic-assisted surgical devices estimated to become $17.8 billion by 2027, growing at a CAGR of 17.7% over the forecast period, driven by precision-related technological advances, and rising demand for minimally invasive procedures worldwide.
The robotically-assisted surgical (RAS) system has several advantages over standard surgical approaches, including more rapid recovery, lower rate of postoperative infection, decreased pain, better postoperative immune function, and cosmetic results.

However, high cost of owning and operating robotic systems continues to represent a major barrier to entry, especially for smaller, low-volume hospitals.

As next-generation robotic surgery systems are coming to market, the rising competition is expected to help bring down the cost of these systems in the near future.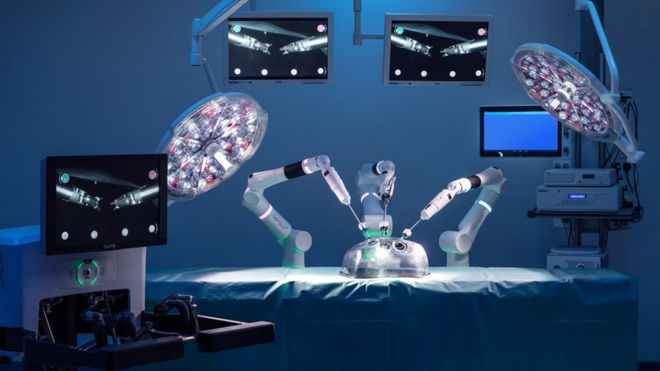 Robotics is now being used in the medical arena, offering transformative potential in patient care, prostheses and surgery.
Robotic-assisted surgical devices are one type of computer-assisted surgical system that allow surgeons to use computer and software technology to control and move surgical instruments during variety of minimally invasive surgical procedures.

The proliferation of surgical robotics offers many cost- and precision-related advantages.

Emerging robotic technologies are increasingly being used by surgical disciplines to facilitate and improve performance of minimally invasive surgery.
Different types of computer-assisted surgical systems can be used for pre-operative planning, surgical navigation and to assist in performing surgical procedures.
RAS devices are one type of computer-assisted surgical system. Sometimes referred to as robotic surgery, RAS devices enable the surgeon to use computer and software technology to control and move surgical instruments through one or more tiny incisions in the patient's body (minimally invasive) for a variety of surgical procedures.

The FDA has cleared RAS devices for use by trained physicians in an operating room environment for laparoscopic surgical procedures in general surgery cardiac, colorectal, gynecologic, head and neck, thoracic and urologic surgical procedures.

Some common procedures that may involve RAS devices are gall-bladder removal, hysterectomy and prostatectomy (removal of the prostate).
The global market for robotically-assisted surgical devices report provides market size ($million 2017 to 2027), market share, growth trends and forecast (CAGR%, 2021 to 2027).
The global robotic-assisted surgical (RAS) devices market segmented by product (robotic-assisted systems, instruments and accessories, services or maintenance contracts); clinical application (general surgery, gynecology, urology, orthopedic, neurosurgery, cardiovascular, thoracic, others). end user (hospitals, ambulatory surgical centers), and geography.
Based on the products, the instruments and accessories segment accounted for the largest share of the total robotic surgery market in terms of revenue given the high usage of accessories per surgical procedure. This segment also predicted to grow at the fastest rate during the forecast period.

The revenues from both robotic-assisted systems and services or maintenance contracts segments expected to witness a double-digit growth during the next few years.

However, the service revenue as a percentage of total market projected to decline as a result of lower-priced surgery systems that are expected to be introduced by the newcomers.

Technological advances such as haptic feedback, augmented reality and the availability of 3D planning software have enabled a step change in the services, such as imaging and data analytics to become one of the hottest and fastest-growing areas.

Robot-assisted surgery offers a common test platform to study human sensorimotor control across many degrees of task complexity.

RAS has the potential to become an influential experimental platform for human neuroscience research that bridges the gap between laboratory experiments and real-world applications.
Some of the major surgical robots include:
Intuitive Surgical's Da Vinci Xi and Da Vinci SP FDA-approved in 2014, Da Vinci X FDA-cleared in 2017
Asensus Surgical's Senhance FDA-cleared in 2017
CMR Surgical's Versius CE marked in 2019; FDA approval expected in 2021
Avatera Medical's Avatera CE marked in 2019; no immediate plans for FDA approval
Medtronic's Hugo CE marked in 2021; FDA approval expected in 2022
Johnson & Johnson's Ottava CE mark or FDA approval expected in 2026
The global robotic-assisted surgical devices market research report is further segmented by geography into North America (U.S., Canada), Europe (U.K., Germany, France, Italy, Spain, Rest of EU), Asia Pacific (Japan, China, India, Rest of APAC), Latin America (Brazil, Mexico, Rest of LA), and Rest of the World.
Geographically, the North America region dominated the global market, as currently most of robotic surgeries are performed in the United Sates.

On the other hand, the Asia Pacific market for robot-assisted surgery expected to show strong growth in the coming years, considering high demand for surgical interventions in non-communicable diseases.

Worldwide robotic procedures accounted for only 2% of all surgeries, whereas traditional minimally invasive open procedures held about 30% to 35% of all surgeries.
The global market report also provides the detailed market landscape (market drivers, restraints, and opportunities), market attractiveness analysis and also tracks the major competitors operating in the market by company overview, financial snapshot, key products, technologies and services offered, market share analysis and recent trends in the global market.
The RAS device manufacturers are developing next-generation products that are less costly and offer advanced features such as advanced imaging, machine learning and data analytics, eye-tracking software and navigation systems.
The newly designed systems are likely to decrease trauma and invasiveness of surgery, with greater precision and efficiency.

For example, the Da Vinci Surgical System (Intuitive Surgical Inc.,) was FDA approved in 2000. The soft tissue applications of the system include urological, gynecological, and gastrointestinal surgeries.
Intuitive Surgical's da Vinci line of robotic surgery systems is the established leader in soft-tissue robotic surgery, including general, urology, gynecology, thoracic, colorectal, and bariatric procedures.

Several major medtech players such as Medtronic, Stryker, Zimmer Biomet, and Johnson & Johnson Medical, Inc., as well as smaller companies like CMR Surgical Ltd., are vying to carve out market share by introducing competing platforms.

Stryker Corp. markets the Mako robotic system for hip and knee indications.
Accuray Inc. markets the CyberKnife system, a frameless radiosurgery system used to treat cancerous and non-cancerous tumors and other targets.
Medtronic has the Mazor X system and Renaissance Guidance system, for stereotactic brain procedures and spine indications in the market.

Medtronic recently launched its Hugo soft-tissue robotic system in Europe and expects to launch it in the US in the next couple of years.

Johnson & Johnson acquired Auris Health Inc. to add the FDA approved Monarch robotic surgery platform for diagnostic and therapeutic bronchoscopy procedures to treat lung cancer. The company added the Monarch robotic bronchoscope system to its Ethicon surgical technologies business

However, J&J anticipated fall behind its competitors in the development of robotic surgery platform (Ottava six-arm system) for soft-tissue procedures, due to delay in human clinical trials.

Recently, Zimmer Biomet Holdings Inc. received US FDA 510(k) clearance for its ROSA Knee robotically assisted total knee replacement system.

On the other side, Zimmer Biomet is recalling its ROSA One 3.1 Brain Application, a robotic platform designed to help neurosurgeons position medical tools during surgery. The recall is related to a software glitch that could cause scans of the patient's head to display incorrectly.

Other prospective competitors include Vicarious Surgical, which expects to launch a robotic surgery system for hernia surgery, and Titan Medical is developing the Enos robotic surgery system for gynecologic surgery.
Major competitors operating in the global robotic-assisted surgical devices market and profiled in this report include Accuray, Inc., AKTORmed GmbH, Asensus Surgical, Inc. (TransEnterix, Inc.), Avatera Medical GmbH, CMR Surgical Ltd., FlexDex Surgical, Inc., Intuitive Surgical, Inc., Johnson & Johnson (Auris Health, Inc./Hansen Medical, Inc.), Medtronic plc (Mazor Robotics), Medrobotics Corporation, NuVasive, Inc., Renishaw plc, Smith & Nephew plc (Blue Belt Technologies), Stereotaxis, Inc., Stryker Corporation (MAKO Surgical Corp.), Titan Medical, Inc., and Zimmer Biomet (Medtech S.A.).
Product

Robotic-Assisted Systems (RAS)
Instruments and Accessories
Services / Maintenance Contracts

Clinical Application

General surgery
Gynecology
Urology
Orthopedic
Neurosurgery
Cardiovascular
Thoracic

End User

Hospitals
Ambulatory Surgery Centers (ASCs)

Geography

North America (U.S., Canada)
Europe (U.K., Germany, France, Italy, Spain, Rest of EU)
Asia Pacific (Japan, China, India, Rest of APAC
Latin America (Brazil, Mexico, Rest of LA)
Rest of the World

Company Profiles

Accuray, Inc.
AKTORmed GmbH
Avatera Medical GmbH
Asensus Surgical, Inc. (TransEnterix, Inc.)
CMR Surgical Ltd.
FlexDex Surgical, Inc.
Intuitive Surgical, Inc.

Johnson & Johnson (Auris Health, Inc./Hansen Medical, Inc.)
Medrobotics Corporation

Medtronic plc (Mazor Robotics)
NuVasive, Inc.
Renishaw plc
Smith & Nephew plc (Blue Belt Technologies)
Stereotaxis, Inc.
Stryker Corporation (MAKO Surgical Corp.)
Titan Medical, Inc.
Zimmer Biomet (Medtech S.A.)
To request Table of Contents and Sample Pages of this report visit:
https://www.ihealthcareanalyst.com/report/robotic-assisted-surgical-devices-market/
Related Publications: