The global market for spinal implants to become $8.6 billion by 2027, growing at a CAGR of 5.6% over the forecast period, largely driven by technological advancements in spinal products for minimally invasive surgery, 3D-printed and expandable interbody fusion devices, radiofrequency-targeted vertebral augmentation devices and polyetheretherketone (PEEK) implants.
With the current demographic changes (population ageing) and lifestyle-related factors increasing the potential for back problems, the demand for a wide range of medical services to treat disorders of the spine and their symptoms may be expected to increase substantially over the coming years.

Another major factors fueling the market growth are increasing incidence of spinal disorders such as herniated discs, degenerative disc disease, spondylolisthesis, prolapsed intervertebral discs, and spinal stenosis, and growing number of spinal non-fusion procedures.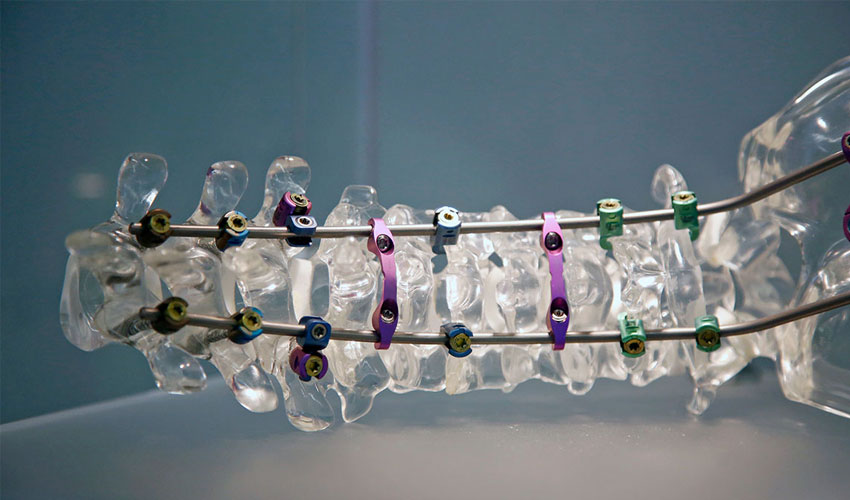 Spinal disorders include a wide and heterogeneous spectrum of diseases that affect the vertebrae, intervertebral discs, facet joints, tendons, ligaments, muscles, spinal cord, and nerve roots of the spine. A degenerative disease of the spine is the major cause of back pain. In some cases, treatment successfully relieves chronic low back pain, but in other cases pain persists despite medical and surgical treatment.
Spinal disorders can include pain syndromes, disc degeneration, spondylosis, radiculopathy, stenosis, spondylolisthesis, fractures, tumors, and osteoporosis.
These disorders are primarily caused by degenerative conditions in the spine, deformity, tumors and trauma.
Many treatments have been developed to address disorders of the spine including disc degeneration, vertebral fracture, and disc herniation.

These range from invasive surgical techniques to noninvasive procedures to treat various tissues of the spine through several stages of damage and degeneration.

Spine implants used for vertebral compression fractures (VCFs) treatment include stents, jacks, PEEK cages and fracture reduction systems.
Lumbar spinal stenosis (LSS) with neurogenic intermittent claudication is one of the most commonly occurring spinal conditions.
Percutaneous interspinous spacers for the relief of symptoms caused by spinal stenosis can be used in patients without surgical procedure.
The global market for spine implants research report provides market size ($million 2017 to 2027), market share analysis, growth trends and forecast (CAGR%, 2021 to 2027).
The global spinal implants market segmented by product [artificial cervical and lumbar discs (artificial cervical discs, artificial lumbar discs), dynamic stabilization devices (interspinous process decompression devices, pedicle screw-based dynamic stabilization devices), spinal fusion instrumentation (cervical fusion – anterior cervical fusion, posterior cervical fusion, cervical pedicle screw systems, interbody cervical fusion, thoracic and lumbar fusion, posterior spinal fixation devices), vertebral compression fracture treatments (vertebroplasty, kyphoplasty, percutaneous vertebral augmentation systems), other motion preserving devices (annulus repair, disc nucleus replacement technologies)], and geography.
The spine market continue to be dynamic and innovative. The sales of spinal fusion instrumentation segment contributed the largest share of global market, followed by dynamic stabilization devices, and others.

The spinal fusion instrumentation market consists of anterior column plating (ACP) systems, intervertebral body fusion devices (IBFDs), and pedicle screw/posterior spinal fixation systems.

An acceleration of innovative medical devices and manufacturing techniques are driving these markets forward.

The manufacturing process is providing vendors with both advanced design capability creating implants that enhance bone in growth and the potential capability to design customized patient implants.

The motion preservation/non-fusion technology segment to witness the highest CAGR, due to the increasing popularity of non-fusion surgeries over traditional surgeries.
The global spinal implants market research report is further segmented by geography into North America (U.S., Canada), Europe (U.K., Germany, France, Italy, Spain, Rest of EU), Asia Pacific (Japan, China, India, Rest of APAC), Latin America (Brazil, Mexico, Rest of LA), and Rest of the World.
Geographically, the North America region dominated the market with over 65% of the sales, followed by the Europe and Asia Pacific regions, respectively.

The low back pain (LBP) is a common spinal disorder and is the most common cause of disability in the population of the USA.

An estimated 34 million people in the 5 major European countries (U.K., Germany. France, Italy, and Spain) suffer from chronic back pain, and the incidence is expected to increase over the next several years, largely due to an expanding elderly population and the growing incidence of degenerative disc disease.

On the other hand, the Asia Pacific region likely register the fastest growth rate during next few years, attributed to increasing number of obesity cases, improving government healthcare spending and rising disposable income levels in the emerging economies.
In addition, the global spinal devices market report provides the detailed market landscape (market drivers, restraints, and opportunities), market attractiveness analysis, and market profitability analysis by key products and regions or countries. The report also tracks the major competitors operating in the global market by company overview, financial snapshot, major products, technologies, services offered and recent developments.
Major competitors operating in the global spinal implants market and included in this report are Aesculap, Inc., Alphatec Spine, Inc., B. Braun Melsungen AG, Becton, Dickinson and Company (Carefusion), Integra LifeSciences Corp., Johnson & Johnson (Depuy Synthes), Globus Medical, Inc., Orthofix International, Medtronic plc, NuVasive, Inc., Smith & Nephew plc, Stryker Corporation, and Zimmer Biomet Holdings, Inc.
Medtronic and Johnson & Johnson (DePuy Synthes) dominated the global spinal implants and devices market with more than 45% of the global market share.

The main areas in which companies have been taking an interest are the spinal implants market and the area of biomaterials, tissue engineering and bone graft substitutes.
Other prominent market players include Amedica, Atlas Spine, AxioMed Spine, Benvenue Medical, Biotechni, Crosstrees Medical, DiscGenics, DFINE, Exactech, Heraeus Medical,Intrinsic Therapeutics, ISTO Technologies, K2M, Life Spine, LDR, Medicrea, Mekanika, Mesoblast, Ltd., Ortho Development, Orthopaedic & Spine Development, Osseon, LLC, Paradigm Spine, PINA Medizintechnik Vertriebs AG, Pioneer Surgical, Premia Spine, Signus Medical, Simpirica Spine, Sintea Plustek, Spinal Elements, Spinal Kinetics, Inc., SpineVision, SpineWave, Synimed, Teknimed, Ulrich Medical USA, and VertiFlex.
Product

Artificial Cervical and Lumbar Discs

Artificial Cervical Discs
Artificial Lumbar Discs

Dynamic Stabilization Devices

Interspinous Process Decompression Devices
Pedicle Screw-Based Dynamic Stabilization Devices

Spinal Fusion Instrumentation

Cervical Fusion

Anterior Cervical Fusion
Posterior Cervical Fusion
Cervical Pedicle Screw Systems
Interbody Cervical Fusion

Thoracic and Lumbar Fusion
Posterior Spinal Fixation Devices

Vertebral Compression Fracture Treatments

Vertebroplasty
Kyphoplasty
Percutaneous Vertebral Augmentation Systems

Other Motion Preserving Devices

Annulus Repair
Disc Nucleus Replacement Technologies

Geography

North America (U.S., Canada)
Europe (U.K., Germany, France, Italy, Spain, Rest of EU)
Asia Pacific (Japan, China, India, Rest of APAC)
Latin America (Brazil, Mexico, Rest of LA)
Rest of the World

Company Profiles

Aesculap, Inc.
Alphatec Spine, Inc.
B. Braun Melsungen AG
Becton, Dickinson and Company (Carefusion)
Integra LifeSciences Corp.
Johnson & Johnson (Depuy Synthes)
Globus Medical, Inc.
Orthofix International
Medtronic plc
NuVasive, Inc.
Smith & Nephew plc
Stryker Corporation
Zimmer Biomet Holdings, Inc.
To request Table of Contents and Sample Pages of this report visit:
https://www.ihealthcareanalyst.com/report/spinal-implants-market/
Related publications: