The global market for medical robotic systems predicted to reach $29.5 billion by 2027, growing at a CAGR of 9.2% over the forecast period, driven by rapid technological advancements in automation, ease-of-use and telesurgery coupled with higher adoption rate in the developed regions.
Other factors driving the market growth include high price of medical robots, increase in per-capital healthcare expenditure, and rising number of surgical procedures performed around the world.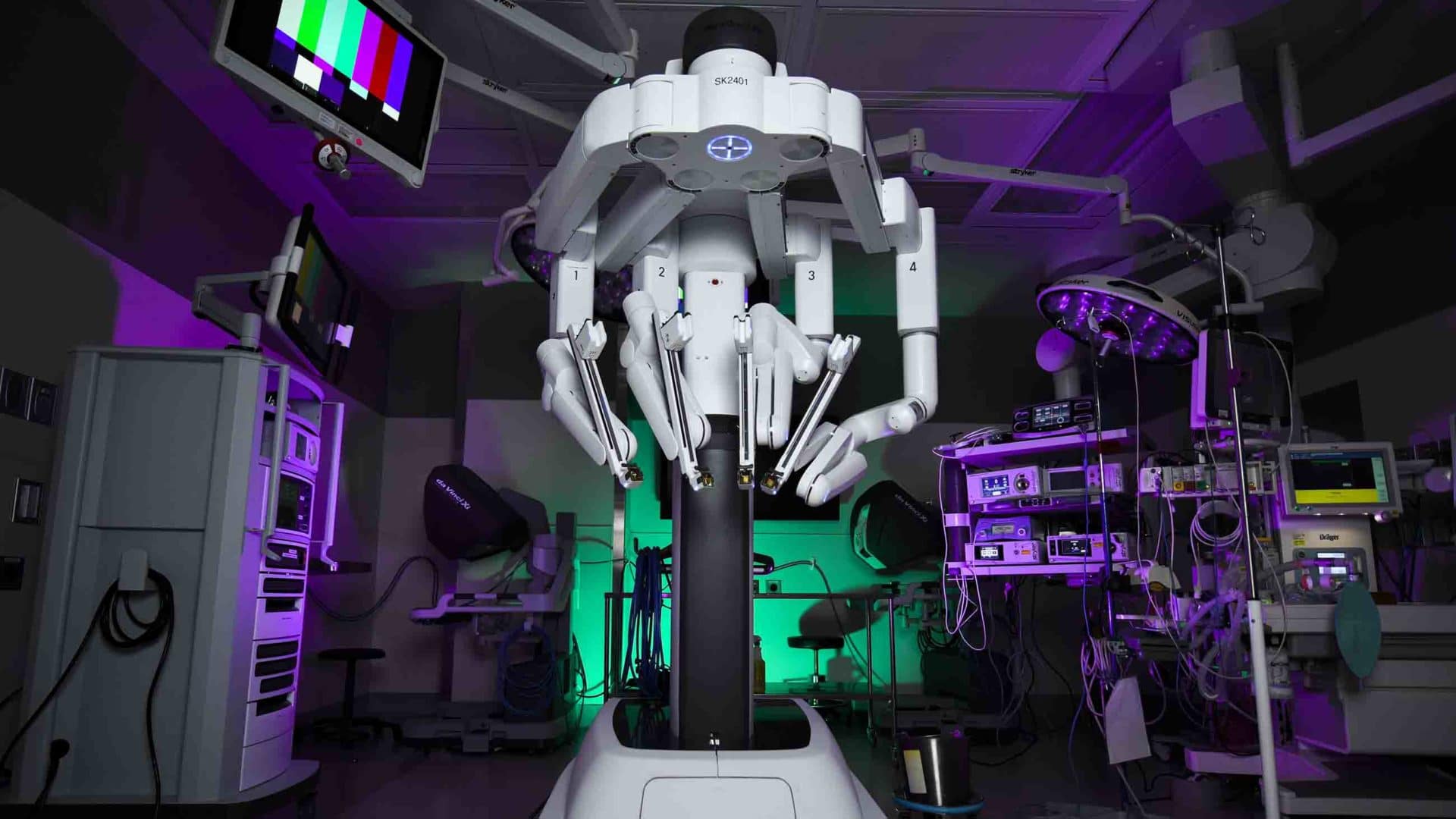 Robotics and artificial intelligence are two disruptive technologies that have already started to revolutionize the healthcare delivery to patients across the globe.
Medical robotics focuses on developing electromechanical devices for clinical applications. Advances in research have led to the use of robotics in a range of surgical applications.

Key applications of robotic systems include laparoscopy, neurology, cardiovascular interventions, urology and orthopaedics, as well as applications for ear, nose and throat (ENT) surgery, vitreoretinal surgery and natural orifice transluminal endoscopic surgery.

Laboratory robots carry out hundreds of tests (e.g. blood testing for HIV) in parallel, saving time and freeing manpower for other purposes. They are used mainly because of their ability to perform repetitive tasks at high speeds, reliably and without fatigue.
As hospital staff is in short supply, the hospital robots can help by fetching or distributing medicine, while patient handling robots may assist in the lifting and positioning of patients that are difficult to manage.
Rehabilitation robots help permanently or temporarily disabled people with the matters that they cannot deal with themselves. The economic and social advantages to be gained from the mass-use of robotics in medicine (and particularly surgery), as already expounded, are enormous.
The medical robotic systems market report estimates the market size ($million 2017 to 2027), market share, growth trends and forecast (CAGR% 2021 to 2027).
The global market for medical robotic systems segmented by product [surgical robots (laparoscopy robotic systems – Da Vinci robotic surgery system, freehand endoscope holder system, Telelap ALF-X endoscopic robotic surgical system), neurosurgery robotic systems (Neuromate surgical system, PathFinder surgical system, Renaissance (SpineAssist) surgical system), non-catheter percutaneous robotic systems (INNOMOTION robot arm system), orthopedic robotic systems (iBlock surgical system, MAKO RIO surgical system, NAVIO surgical system, ROBODOC surgical system, Sculptor Robotic Guidance Arm}, Steerable robotic catheters (Niobe remote magnetic navigation system, Sensei X robotic catheter system)], non-Invasive radiosurgery robotic systems (CyberKnife robotic radiosurgery system, Leksell Gamma Knife Perfexion radiosurgery system, TrueBeam STx radiosurgery system), emergency response robotic systems (AutoPulse Plus robotic system, LS-1 robotic system, others), prosthetics and exoskeletons (C-Leg knee prosthetic, i-Limb Ultra Hand prosthetic, ReWalk walking assistance exoskeleton, RHEO knee prosthetic), assistive and rehabilitation systems (Handy 1 assistive robot, iARM robotic arm, Lokomat robotic rehabilitation device, Myomo mobility system – muscle re-education device), non-medical robotics in hospitals (cart transportation robots, robotic hospital pharmacy, telemedicine robots (iRobot's RP-Vita, Intouch Health's RP-7i)], by component (user interface, software, visualization systems, power sources, locomotion systems, safety systems) and geography.
Based on the products, the surgical robots segment accounted for the largest share of the total medical robotics market, followed by the non-Invasive radiosurgery robotic systems segment.

Prime surgical robots such as the da Vinci robotic system are the pioneers in medical robotics market, performing a wide range of surgical procedures efficiently.

In addition, increasing preference and early adoption of radiosurgery treatment has drastically increased the introduction of real-time tissue tracking systems in non-Invasive radiosurgery robotic systems market.

Non-medical robots in hospitals such as telemedicine robots, cart transportation robots in hospitals and robotic hospital pharmacy systems as well as assistive and rehabilitation robotic systems segments expected to grow at the highest CAGR during the forecast period.

Increase in the labor costs, lack of skilled human resources for hospitals and rising overall healthcare costs has increased demand for lean hospital management methods.

Similarly, intensifying and speeding up the rehabilitation process among patients and reducing the efforts of the physician, easy performance mapping and therapy customization are the major factors resulting in high demand for assistive and rehabilitation robots.
The selected major surgical robots include:
Intuitive Surgical's da Vinci Xi and Da Vinci SP FDA-approved in 2014, Da Vinci X FDA-cleared in 2017
Asensus Surgical's Senhance FDA-cleared in 2017
CMR Surgical's Versius CE marked in 2019; FDA approval expected in 2021
Avatera Medical's Avatera CE marked in 2019; no immediate plans for FDA approval
Medtronic's Hugo CE marked in 2021; FDA approval expected in 2022
Johnson & Johnson's Ottava CE mark or FDA approval expected in 2026
The global medical robotic systems market research report is further divided by geography into North America (U.S., Canada), Europe (U.K., Germany, France, Italy, Spain, Rest of EU), Asia Pacific (Japan, China, India, Rest of APAC), Latin America (Brazil, Mexico, Rest of LA), and Rest of the World.
Geographically, the North America region followed by the Europe region dominated the total market for medical robotic systems, due to technologically advanced medical devices, reimbursement policies and improved healthcare infrastructure in these regions.

On the other hand, the establishment of sophisticated healthcare facilities, increasing patient population and number of surgical procedures are anticipated to register highest growth rate in the emerging economies of the Asia Pacific region.
The global research report also provides detailed market landscape and profiles of major competitors in the global market including company overview, financial snapshot, key products, technologies and services offered, and recent developments.
Major competitors operating in the global market for medical robotic systems and included in this report are Accuray, Inc., Asensus Surgical, Inc. (TransEnterix, Inc.), Avatera Medical GmbH, CMR Surgical Ltd., DIH Medical Group (Hocoma), Elekta AB, Integrated Medical Systems, Inc., Intuitive Surgical, Inc., Johnson & Johnson (Auris Health, Inc./Hansen Medical, Inc.), iRobot Corporation, OMNI Life Science, Inc., Össur hf., Ottobock SE & CO. KGaA, Mckesson Corporation, Medtronic plc (Mazor Robotics), Myomo, Inc., Renishaw plc, ReWalk Robotics, Inc., Siemens Healthineers AG (Varian Medical Systems, Inc.), Stereotaxis, Inc., Stryker Corporation (MAKO Surgical Corp./Stanmore Implants Worldwide, Ltd.), Swisslog Holding Ltd., Teladoc Health, Inc. (InTouch Health, Inc.), Titan Medical, Inc., and ZOLL Medical Corporation.
Product

Surgical Robots

Laparoscopy Robotic Systems

Da Vinci Robotic Surgery System
Freehand Endoscope Holder System
Telelap ALF-X Surgical System

Neurosurgery Robotic Systems

Neuromate Surgical System
PathFinder Surgical System
Renaissance (SpineAssist) Surgical System

Non-catheter Percutaneous Robotic Systems

INNOMOTION Robot Arm System

Orthopedic Robotic Systems

iBlock Surgical System
MAKO RIO Surgical System
NAVIO Surgical System
ROBODOC Surgical System
Sculptor Robotic Guidance Arm (RGA)

Steerable Robotic Catheters

Niobe Remote Magnetic Navigation System
Sensei X Robotic Catheter System

Non-Invasive Radiosurgery Robotic Systems

CyberKnife Robotic Radiosurgery System
Leksell Gamma Knife Perfexion Radiosurgery System
TrueBeam STx Radiosurgery System

Emergency Response Robotic Systems

AutoPulse Plus Robotic System
LS-1 Robotic System
Others

Prosthetics and Exoskeletons

C-Leg Knee Prosthetic
i-Limb Ultra Hand Prosthetic
ReWalk Walking Assistance Exoskeleton
RHEO Knee Prosthetic

Assistive and Rehabilitation Systems

Handy 1 Assistive Robot
iARM Robotic Arm
Lokomat Robotic Rehabilitation Device
Myomo Mobility System (Muscle Re-Education Device)

Non-Medical Robotics In Hospitals

Cart Transportation Robots
Robotic Hospital Pharmacy
Telemedicine Robots (iRobot's RP-Vita, InTouch Health's RP-7i)

Component

User Interface
Software
Visualization Systems
Power Sources
Locomotion Systems
Safety Systems

Geography

North America (U.S., Canada)
Europe (U.K., Germany, France, Italy, Spain, Rest of EU)
Asia Pacific (Japan, China, India, Rest of APAC)
Latin America (Brazil, Mexico, Rest of LA)
Rest of the World

Company Profiles

Accuray, Inc.
Asensus Surgical, Inc. (TransEnterix, Inc.)

Avatera Medical GmbH
CMR Surgical Ltd.
DIH Medical Group (Hocoma)
Elekta AB
Integrated Medical Systems, Inc.
Intuitive Surgical, Inc.
Johnson & Johnson (Auris Health, Inc./Hansen Medical, Inc.)
iRobot Corporation

OMNI Life Science, Inc.
Össur hf.
Ottobock SE & CO. KGaA
Mckesson Corporation
Medtronic plc (Mazor Robotics)
Myomo, Inc.

Renishaw plc
ReWalk Robotics, Inc.
Siemens Healthineers AG (Varian Medical Systems, Inc.)
Stereotaxis, Inc.

Stryker Corporation (MAKO Surgical Corp./Stanmore Implants Worldwide, Ltd.)
Swisslog Holding Ltd.
Teladoc Health, Inc. (InTouch Health, Inc.)
Titan Medical, Inc.
ZOLL Medical Corporation
To request Table of Contents and Sample Pages of this report visit:
https://www.ihealthcareanalyst.com/report/medical-robotic-systems-market/
Related publications: