The global market for facial fillers and injectables expected to reach $14.3 billion by 2027, growing at a CAGR of 8.9% over the forecast period, driven by increasing public awareness and higher demand for minimal invasive procedures worldwide.
Entry of new and advanced products with fewer side effects, and increased effectiveness period are likely to boost the demand for facial fillers and injectable products.
With age, skin becomes more susceptible to wrinkles and sagging. Exposure to sun and years of muscle movement (squinting, chewing, smiling) contribute to tissue breakdown of the skin.
Facial fillers and injectables are products such as collagen, hyaluronic acid and calcium hydroxylapatite that rejuvenate facial skin by reducing or eliminating wrinkles, raising scar depressions, enhancing lips and replacing soft-tissue volume loss through facial injections.
Facial injectables are temporary to long-lasting solutions administered through a few tiny facial injections on specific areas of the face.

Various types of facial fillers are available; each is designed with one or several purposes, such as wrinkle reduction and lip augmentation.
Facial injectables volumizes creases and folds in the face in areas that have lost fat and collagen as age progresses.
Hyaluronic acid is the natural filler substance in your body. The face starts to lack volume and appears aged with deeper nasolabial folds, unaesthetic marionette lines, a deeper mentalis fold, the lips start to thin, and turning down the corners of the lips.

Hyaluronic acid fillers such as Restylane and Juvederm are then injected extraorally right underneath these folds to replace the volume lost which creates a younger look in the face.
Dermal fillers or injectables can be used for high lip line cases, asymmetrical lips around the mouth, lip augmentation, and completing cosmetic dentistry cases by creating a beautiful, young-looking frame around the teeth.
Dermal fillers are gel-like substances that are injected beneath the skin to restore lost volume, smooth lines and soften creases, or enhance facial contours.

More than 1 million men and women annually choose this popular facial rejuvenation treatment, which can be a cost-effective way to look younger without surgery or downtime.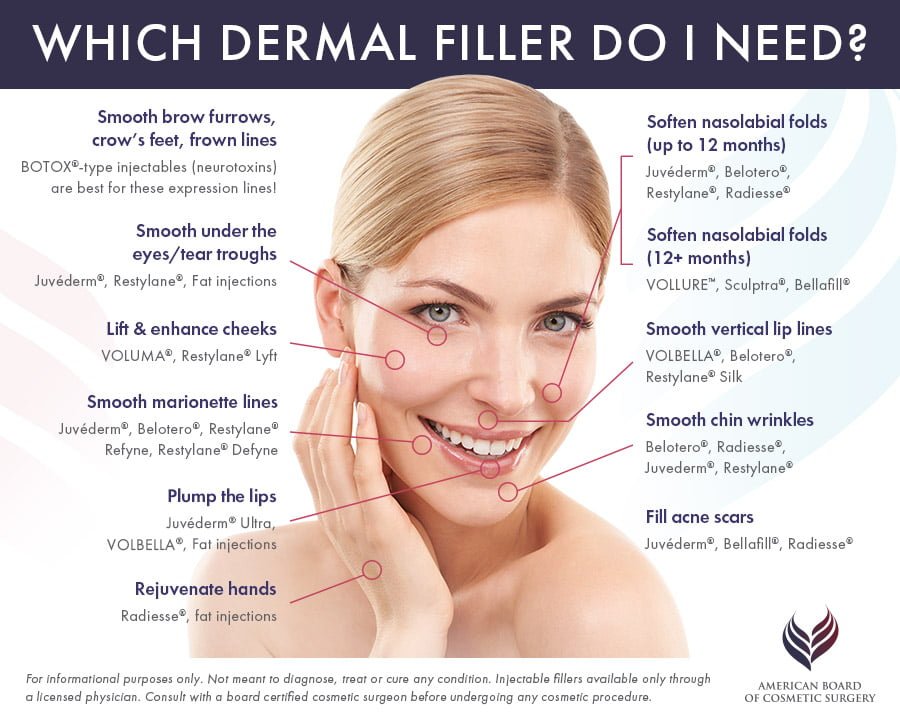 The global facial injectables market report provides market size ($million 2017 to 2027), market share, growth trends and forecast (CAGR%, 2021 to 2027).
The global facial fillers and injectable products market segmented by product [botulinum toxin, hyaluronic acid, collagen, particles and polymers fillers (polymethylmethacrylate beads (PMMA microspheres), poly-L-lactic acid, calcium hydroxyapatite)], and geography.
Based on the products, the hyaluronic acid (HA) based facial injectable products segment accounted for the largest share of the total market, while the particles and polymers based facial fillers (PPF) segment anticipated to witness the fastest growth rate during the forecast period.

Increasing geriatric population, changing lifestyle and rising disposable income are some of the key factors driving the demand for hyaluronic acid products.

Growing elderly population and higher demand for safe and long-lasting facial injectable products are expected to contribute higher revenues for particle and polymer fillers segment in the near future.
Some of the FDA approved facial fillers include:
Hyaluronic acid (HA) fillers

Juvéderm products: Juvéderm XC, VOLUMA, VOLBELLA, VOLLURE
Restylane products: Restylane, Restylane Silk, Restylane Lyft, Restylane Refyne, and Restylane Defyne
Belotero Balance

Calcium Hydroxyapatite (CaHA) fillers
Poly-L-lactic acid fillers
Polymethylmethacrylate (PMMA) fillers
The global market for facial fillers and injectables research report is further divided by geography into North America (U.S., Canada), Europe (U.K., Germany, France, Italy, Spain, Rest of EU), Asia Pacific (Japan, China, India, Rest of APAC), Latin America (Brazil, Mexico, Rest of LA) and Rest of the World.
The global market report also provides the detailed market landscape (market drivers, restraints, opportunities), market attractiveness analysis and profiles of major competitors in the global market including company overview, financial snapshot, key products, technologies and services offered, and recent developments.
Major competitors operating in global market for facial fillers and injectable products and included in the report are Bloomage BioTechnology Corporation Ltd., Galderma S.A., Ipsen Group, and Merz Pharma GmbH & Co. KGaA.
Product

Botulinum Toxin
Collagen
Hyaluronic Acid (HA)
Particles and Polymers Fillers (PPF)

Calcium Hydroxyapatite (CaHA)
Poly-L-lactic Acid
Polymethylmethacrylate Beads (PMMA microspheres)

Geography

North America (U.S., Canada)
Europe (U.K., Germany, France, Italy, Spain, Rest of EU)

Asia Pacific (Japan, China, India, Rest of APAC)
Latin America (Brazil, Mexico, Rest of LA)
Rest of the World

Company Profiles

Bloomage BioTechnology Corporation Ltd.
Galderma S.A.
Ipsen Group
Merz Pharma GmbH & Co. KGaA
To request Table of Contents and Sample Pages of this report visit:
https://www.ihealthcareanalyst.com/report/facial-injectables-market/
Related publications: