The global market for tissue-engineered skin substitutes estimated to reach $9.8 billion by 2029, expanding at a double-digit CAGR of 16.3% over the forecast period, driven by newer procedures being developed and adopted to generate skin substitutes for various clinical applications.
Other factors boosting the market growth include rapidly aging population, increasing incidence of skin disorders, large number of diabetic and vascular ulcer patients, high demand for minimally invasive surgical products and growing trends in medical tourism practices.

Skin substitutes are frequently used by plastic surgeons today to treat a wide variety of cutaneous defects.

They provide methods to heal wounds while minimizing donor sites. They are commonly used in burns, acute wounds, and chronic wounds.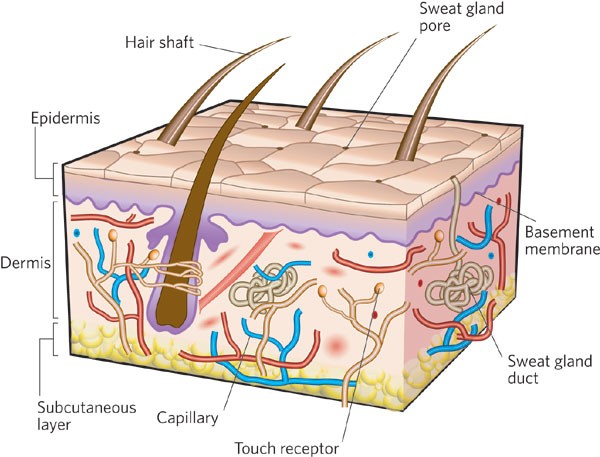 There are three main types of commercially available engineered skin substitutes including epidermal, dermal, and dermoepidermal. Each of them could be composed of scaffold, desired cell types or growth factors.
These substitutes could have autologous, allogeneic, or xenogeneic origin. Moreover, they may be cellular or acellular.

They are used to accelerate wound healing and recover normal skin functions with pain relief.

Although there are a wide variety of commercially available skin substitutes, almost none of them considered as an ideal equivalents required for proper wound healing.
New advances have been made toward developing skin substitutes made up of artificial and natural materials.
Research is continuing to develop a competent full thickness skin substitute product that can vascularize rapidly, making it user friendly, commercially affordable, and viable with longer shelf life. Different strategies, such as injecting growth factors and extracellular matrix, are being adopted towards tissue re-growth and wound healing.
Tissue engineered skin substitutes are upcoming alternatives to traditional wound healing strategies and tissue regeneration.
Currently, available engineered skin-substitutes can be classified based on the type of the biomaterial used, as biological (autologous, allogeneic, xenogeneic) or synthetic (biodegradable, non-biodegradable).
Commonly used synthetic acellular skin substitutes are Biobrane, Integra, Alloderm, and TransCyte.

Examples of frequently used natural skin substitutes with allogeneic cells include Dermagraft, Apligraf, Celaderm, and OrCel, while those with autologous cells include Epicel.

Alloderm, Graftjacket, and GammaGraft are allografts derived from an acellular matrix obtained from a cadaveric dermis.

Several skin substitutes like Integra and Matriderm are already employed in the clinical application, being complemented by the use of autologous split-thickness skin grafts.

Other skin substitutes like Permacol, Matriderm, and Oasis belong to the xenograft category.
Large skin defects resulting from burns, trauma, congenital giant nevi and disease can lead to skin necrosis and represent a challenging clinical problem that necessitates a novel approach to achieving skin coverage.
Tissue engineered skin provides both epidermal and dermal components required to achieve functional wound closure and have therefore been used to effectively close full-thickness burn wounds and treating burns that are greater than 50% of the total burn surface area (TBSA).

The presence of a large number of cells, especially stem cells, in tissue engineered skin enables regeneration of native-like skin in burn patients.

Tissue engineered skin substitutes hold a promise for future tissue regeneration and wound healing therapeutics.

There are several skin substitutes currently available, but skin substitutes constructed from a combination of stem cells and biomaterials remain a promising solution for the future.
The global tissue-engineered skin substitutes market report provides market size ($million 2019 to 2029), market share, growth trends and forecast (CAGR%, 2022 to 2029). 
The global market for tissue engineered skin substitutes segmented by product (acellular skin substitutes, cellular allogeneic skin substitutes, cellular autologous skin substitutes, others), application (burn injury, diabetic and vascular ulcers, others), and geography.
In addition, product pricing analysis has been provided for Integra Bilayer Matrix, Integra BioFix, Integra DRT, DermACELL, Graftjacket, Epicel, MySkin, SkinTE, PermaDerm, Affinity, AmnioExcel, Apligraf, Dermagraft, Epifix, Grafix Core, Grafix Prime, StrataGraft, TheraSkin, TransCyte, Oasis Wound Matrix, Kerecis Omega3 Wound, Integra PriMatrix, and Permacol.
In terms of products, the acellular skin substitutes segment accounted for the largest share of total market and also expected to show the fastest growth rate during the forecast period.

Factors such as easy availability, low cost, and higher preference for acellular products used during implant-based skin surgeries are supporting the growth of this segment.

Other advantages of acellular skin substitutes include low inflammatory response, provide no local or systemic toxicity, and allow water vapor transmission similar to normal skin. These skin substitutes also adhere to wound surface rapidly, have required physical and mechanical properties, and go through controlled degradation.

For example, the American Society of Plastic Surgeons (ASPS) stated that more than 50% surgeons in the U.S. preferred acellular matrix for skin surgeries. Factors such as easy availability, low cost, and high demand support the growth of the segment.

By applications, the diabetic and vascular ulcers segment dominated the global market and anticipated to maintain its position over the next few years.

The factors supporting the growth of this market include proven efficacy and physician and patient familiarity with the diabetic and ulcer patients. increasing prevalence of diabetes and ulcer patients, particularly in developing countries and the resultant need for prompt and accurate treatment.

Currently, the treatment for diabetic foot is the lack of specification guidelines. Tissue engineered skin for diabetic foot ulcers is regarded as a kind of novel biological treatment materials.

In recent years, it is more and more widely used in the world, such as Graftskin, Dermagraft, Hyalograft 3D and Graftjacket.
Similarly, Celaderm (Advanced BioHealing) is representative of this model, and its efficacy has been validated in clinical trials for treating venous leg ulcers.
The global market for tissue-engineered skin substitutes research report is further divided by geography into North America (U.S., Canada), Europe (U.K., Germany, France, Italy, Spain, Rest of EU), Asia Pacific (Japan, China, India, Rest of APAC), Latin America (Brazil, Mexico, Rest of LA) and Rest of the World.
Geographically, the North America region registered the largest share of the global tissue engineered skin substitutes market, followed by the Europe region.

The dominance of these developed regions majorly attributed to the increasing prevalence of vascular diseases such as venous ulcers, lymphedema, and deep vein thrombosis, rising demand for skin substitutes, growing elderly population, early stage diagnosis, high cost of products, presence of well established infrastructure, favorable reimbursement policies, and availability of advanced products in the developed countries.

On the other hand, the Asia Pacific market likely to witness the fastest CAGR over the forecast period, owing to increasing incidence of vascular diseases, high demand for low-cost products, rising disposable income, high unmet needs, improving healthcare infrastructure, and consolidation strategies adopted by the major companies in the emerging economies.
The global market report also provides the detailed market landscape (market drivers, restraints, opportunities), market attractiveness analysis and also tracks the major competitors operating in the market and provides analysis of the company overview, financial snapshot, key products, technologies and services offered, market share analysis and recent trends in the global market.
Major competitors operating in the global tissue-engineered skin substitutes market and included in this report are Acelity L.P., Inc. (3M Company) BSN Medical GmbH (Essity AB), ConvaTec Group plc, Integra LifeSciences Corporation, Medtronic plc (Covidien plc), Mölnlycke Health Care, Organogenesis Holdings, Inc., and Smith & Nephew plc.
Product

Acellular Skin Substitutes
Cellular Allogeneic Skin Substitutes
Cellular Autologous Skin Substitutes
Others

Application

Burn Injury
Diabetic and Vascular Ulcers
Others

Geography

North America (U.S., Canada)
Europe (U.K., Germany, France, Italy, Spain, Rest of EU)

Asia Pacific (Japan, China, India, Rest of APAC)
Latin America (Brazil, Mexico, Rest of LA)
Rest of the World

Company Profiles

Acelity L.P., Inc. (3M Company)
BSN Medical GmbH (Essity AB)
ConvaTec Group plc
Integra LifeSciences Corporation
Medtronic plc (Covidien plc)
Mölnlycke Health Care
Organogenesis Holdings, Inc. (Advanced BioHealing, Inc.)
Smith & Nephew plc
To request Table of Contents and Sample Pages of this report visit:
https://www.ihealthcareanalyst.com/report/tissue-engineered-skin-substitutes-market/
Related publications: