The global market for fundus cameras anticipated to attain $418 million by 2027, expanding at a CAGR of 4.3% over the forecast period, driven by increasing incidence of retinal disorders, growing elderly population, and technological advancements.
Traditional fundus cameras offer good-quality images but are bulky, office based, technician dependent, and costly. Besides access to the retinal imaging device, affordability is of paramount importance in screening programs, especially in the remotest of places.

Recently, there have been significant technological advances that have radicalized retinal photography. Improvements in telecommunications and smartphones are two remarkable breakthroughs that have made ophthalmic screening in remote areas a realizable possibility.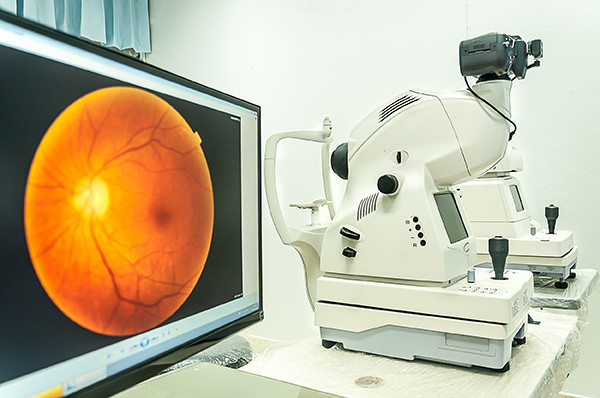 Fundus photography documents the retina, the neurosensory tissue in our eyes which translates the optical images into the electrical impulses from brain. The retina can be photographed directly as the pupil is used as both an entrance and exit for the fundus camera's illuminating and imaging light rays.
Fundus photography involves capturing a photograph of the back of the eye i.e. fundus. Specialized fundus cameras that consist of an intricate microscope attached to a flash enabled camera are used in fundus photography.

The main structures that can be visualized on a fundus photo are the central and peripheral retina, optic disc and macula. Fundus photography can be performed with colored filters, or with specialized dyes including fluorescein and indocyanine green. The models and technology of fundus photography has advanced and evolved rapidly over the last century.

Fundus cameras are the current clinical standard for capturing retinal images, which are used to diagnose a variety of sight-threatening conditions. Traditional fundus cameras are not easily transported, making them unsuitable for field use. In addition, traditional fundus cameras are expensive.

Due to this, a variety of technologies have been developed such as the D-EYE Digital Ophthalmoscope (D-EYE Srl, Padova, Italy) which is compatible with various cellphone cameras.
The global fundus cameras market report provides market size ($million 2017 to 2027), market volume (number of units sold), market share, growth trends and forecast (CAGR%, 2021 to 2027).
The global market for fundus cameras segmented by product [mydriatic fundus cameras, (tabletop mydriatic fundus cameras, handheld mydriatic fundus cameras), non-mydriatic fundus cameras (tabletop non-mydriatic fundus cameras, handheld non-mydriatic fundus cameras), hybrid fundus cameras, retinopathy of prematurity cameras], end user (hospitals, ophthalmic and optometrist offices, ophthalmology clinics), and geography.
Based on the products, the non-mydriatic fundus cameras segment accounted for the largest share of the total market, as these cameras can diagnose and capture images without any requirement of dilation procedure as well its increasing acceptance due to minimizing the additional task of pupil dilation for internal visualization of the eye and easy operation.

The tabletop non-mydriatic fundus cameras sub-segment dominated the market, whereas the handheld non-mydriatic fundus cameras sub-segment expected to register highest CAGR during the forecast period.

Advancements in the field of optical sources and detectors have led to miniaturization of optical assemblies at a lower cost. In line with these developments, miniature table-top fundus camera system designs have emerged that provide retinal images comparable to those of traditional fundus cameras.

For example, iCam by Optovue, Inc., EasyScan by iOptics, digital retinography system (dRS) by CenterVue, TRC-NW8Fplus (Topcon), etc.

On the other hand, the hybrid fundus cameras segment anticipated to witness the fastest growth rate during the coming years.

The latest hybrid fundus cameras combine the features of both mydriatic and non-mydriatic cameras in a single device, thus saving time and resources for ophthalmologists and optometrists.

For example, some of the hybrid cameras such as iFusion from Optovue, Inc. and 3D OCT-1 Maestro from Topcon Corporation incorporate features of both fundus cameras as well as optical coherence tomography (OCT) in a single device.

Amon the end users, the hospitals segment led the global market, while the ophthalmology clinics segment predicted to grow at the fastest rate in the near future.

The hospitals segment majorly accounts for conventional mydriatic and non mydriatic fundus cameras.
The ophthalmology clinics and ophthalmic and optometrist offices are major contributors to the growth and acceptance of advanced products such as hybrid fundus and non-mydriatic fundus cameras.
The global market for fundus cameras research report is further divided by geography into North America (U.S., Canada), Europe (U.K., Germany, France, Italy, Spain, Rest of EU), Asia Pacific (Japan, China, India, Rest of APAC), Latin America (Brazil, Mexico, Rest of LA) and Rest of the World.
The global market for fundus cameras report also provides the detailed market landscape (market drivers, restraints, opportunities), market attractiveness analysis and profiles of major competitors in the global market including company overview, financial snapshot, key products, technologies and services offered, and recent developments.
There are very few fundus camera manufacturers and brands such as Digisight, Volk, Topcon, Zeiss, Canon, Nidek, Kowa Company, CSO, CenterVue, and Ezer available in the market, due to the sophisticated equipment and regulatory challenges to manufacture according to the clinical standards.
Major competitors operating in global market for fundus cameras and included in the report are Canon, Inc., Carl Zeiss Meditec AG, CenterVue S.p.A., Clarity Medical Systems, Inc., Kowa Optimed, Inc., NIDEK Co., Ltd, Optomed Oy, Optovue, Inc., and Topcon Corporation.
Product

Mydriatic Fundus Cameras

Tabletop Mydriatic Fundus Cameras
Handheld Mydriatic Fundus Cameras

Non-Mydriatic Fundus Cameras

Tabletop Non-Mydriatic Fundus Cameras
Handheld Non-Mydriatic Fundus Cameras

Hybrid Fundus Cameras
Retinopathy of Prematurity (ROP) Cameras

End User

Hospitals
Ophthalmic and Optometrist Offices
Ophthalmology Clinics

Geography

North America (U.S., Canada)
Europe (U.K., Germany, France, Italy, Spain, Rest of EU)

Asia Pacific (Japan, China, India, Rest of APAC)
Latin America (Brazil, Mexico, Rest of LA)
Rest of the World

Company Profiles

Canon, Inc.
Carl Zeiss Meditec AG
CenterVue S.p.A.
Clarity Medical Systems, Inc.
Kowa Optimed, Inc.
NIDEK Co., Ltd
Optomed Oy
Optovue, Inc.
Topcon Corporation
To request Table of Contents and Sample Pages of this report visit:
https://www.ihealthcareanalyst.com/report/fundus-cameras-market/
Related publications: